The Intercollegiate Department of Asian American Studies at the Claremont Colleges is pleased to announce the launch of its signature event, the Activist/Artist-in-Residence (AAIR) program spring 2013. Through the AAIR program, IDAAS offers public events and workshops with activists and professional artists representing diverse cultures and art forms that are usually not part of "traditional" college curricula.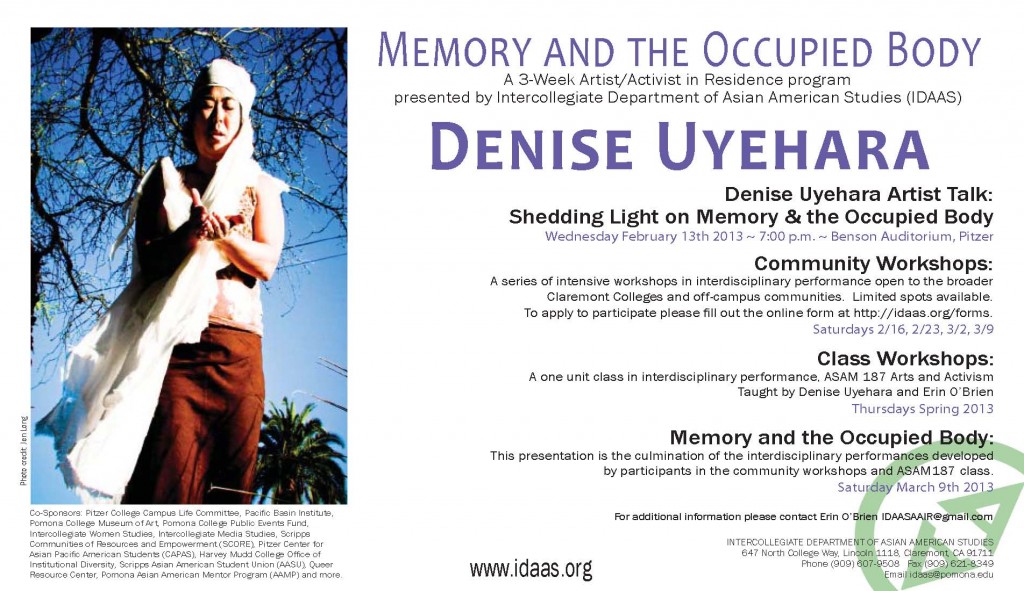 We are delighted that internationally known, award-winning performance artist, writer, and playwright Denise Uyehara will be the inaugural AAIR for spring 2013.
Titled 'Memory and the Occupied Body,' this three-week residency by Denise Uyehara includes a public artist talk and discussion with students and the community, followed by a series of intensive workshops in interdisciplinary performance with an IDAAS class and through a community workshop series open to the broader Claremont Colleges and off-campus communities. The residency will culminate in a final "showing" by the students and community members in public daytime "showing."
Events
Opening Performative Talk: February 13th, 2013, 7pm in Benson Auditorium at Pitzer College
Community Workshops (limited space available!): Three consecutive Saturdays – Feb. 16, Feb. 23, and Mar. 2 from 1-5pm. 
In-Class Workshops (ASAM187): Arts and Activism (SC) with Erin O'Brien as facilitator with students; four consecutive in-class workshops (Feb. 14, 21, 28 and March 7) co-facilitated with Denise Uyehara, 2 hours and 50 minutes each.
Closing/Showing: Saturday, March 9, 3-5pm in Kallick Family Gallery at Pitzer College.
IDAAS will be one of two Asian American Studies departments in the United States to provide this unique opportunity to integrate the knowledge of artists AND activists with higher education. Moreover, this innovative program contributes to the intellectual life of the Claremont Colleges by:
creating an immersive, sustained, and engaged learning experience for students and communities.
adding hands-on, participatory methods of learning to the prevalent guest lecture model at the consortium.
drawing from the vast array of public intellectuals.
linking the broader community with the Claremont Colleges.
Links:
About Denise Uyehara
AAIR in 2013
FMI: contact idaasAAIR@gmail.com